About us:
In December, 2019 the folk-ensemble "Supryadki" (Narva, Estonia) celebrated its 35th anniversary. The creation of the ensemble was preceded of Narva Music School teachers in 1984 on New Year's Eve in the music school where "kolyadki" (Yule-songs) and Christmas carols were shown.
The group of traditional culture or folk-ensemble "Supryadki" was registered in Narva museum in February, 1991. Thus, the problem of material culture issues collecting, preserving and demonstration was solved, as well as the possibility to listen to old songs alive and see old-time rites, which had always been an integral part of people's lives and culture.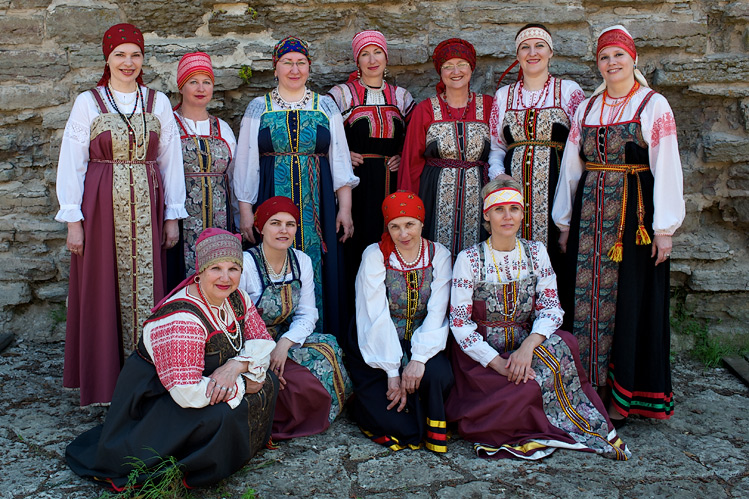 The first programme was in the form of the concert-lecture that presented narration about Russian calendar traditions with the performance of songs that originate from different regions of Russia. In addition to this there was a presentation of songs that were collected and preserved by some ensemble members during their expeditions after their study in Moscow and Leningrad. One of the most important sources for these events was published expeditionary material.
With their coming into Narva museum "Supryadki" have started traditional culture researches, reconstructions and popularization of the cultures of the people that live on Russian-Estonian border territories (Russian, Estonian, Izhorian, Votic and Sethu).
The folk-ensemble "Supryadki" carries out active educative work. There was a great number of concerts-lectures, music shows dedicated to Estonian and Russian calendars and family rites with the participation of professional producers.
In 1992 ensemble took part in its first folk festival "Zolotoye Yabloko" ("Golden Apple") in Suzdal, Russia and won the first place in the contest. After the festival the ensemble developed an understanding that it is necessary to pay attention to songs of our region and it is vital to learn songs according to audio records received in expeditions, not only via notes' transcriptions.
The first expedition took place in 1994. Its destination was the South-East of Estonia where Russian and mixes settlements (Ryapina, Vyypsu, Lyubnitsa) could be found. Since 1999 acquisition of songs, traditions has been in progress in the villages of Russian Old-Believers of Estonia (Mustvee, Raya, Kyukita, Tiheda, Kallaste, Kolkya, Kasepya and Varnya). The repertoire of ensemble is constantly being enriched with new songs due to this activity.
Ensemble is the participant of many republican and international folk festivals, workshops, seminars and conferences (Estonia, Russia, Lithuania, Georgia, Germany, Belgium, Italy, Finland, Poland, Spain, Greece).
"Supryadki" gives seminars and workshops connected to calendar holidays for school teachers and kindergarten music teachers and engages to this activity the best folklore specialists of Estonia and Russia.
"Supryadki" is the member of Russian and Estonian Folklore Unions. In 2004 the ensemble was awarded with the Highest Category for authentic performance by The Folklore Union of Estonia. "Supryadki" has received many awards for the preservation of traditional culture. In year 2009 the leader of the ensemble, Marina Kuvaitseva, was awarded with the Order of the White Star of Republic of Estonia (V Class) for preservation of traditional culture of old-believers of Estonia. Estonian film-directors had made documentary films about the ensemble (Arvo Iho – 2004, Gennadi and Jelena Meleshko – 2010)
Folk-ensemble "Supryadki" has recorded 6 audio CDs. The first CD presents calendar and wedding songs of different regions of Russia. The second CD besides Russian songs from Leningrad, Pskov and Bryansk regions, contains the examples of Estonian and Izhorian folklore ceremonial songs. The third CD contains Russian and Estonian "cruel" love songs. Russian love songs were recorded from Old-Believers of Kallaste in Prichudye, Estonian songs were collected from settlers of Siberia. In the end of 2009 the ensemble presented their new album consisting of 2 CDs. The first CD has spiritual songs of Prichudye Old-Believers, these songs have been collected in expeditions of 2006–2008. The second CD contains folk-songs that "Supryadki" has performed in co-work with Narva rock-group "AveNue" in the modern musical adaptation.